The Day We Went Un-digital- The Digital Concepts Annual Picnic
'All work and no play makes Jack a dull boy' all of us have heard this proverb many times and it is certainly applicable in every aspect of our lives. So was it the case at Digital Concepts. Hence, when our team members thought about taking a break, the best thing we could do was to take it together. And in almost no time was chalked out a plan for a picnic. All it needed for us was just to tell our team leaders that we were planning for it and to our surprise, they went all in. And then what, fun and frolic were on their way.
The Prologue
The annual picnic of Digital Concepts was organized, or rather we should say "disorganized" on the 11th of January, 2020. Sagar and Sandip, our two senior and supposedly meticulous planners had inputs for close quarters which would cost less. Our Co-Founders also had their own suggestions. And after a day or two of discussions, we decided on going to Raichak. Located about 50 km from the heart of Kolkata, a quiet place situated on the banks of the Hoogly River, a distributary channel of the Ganges.
And thus, the minds were made up; to go for the ride; to go un-digital.
Scene 1: An Early Beginning
The most important thing about our picnic was not the picnic itself but to wake up in time and reach the spot (a specified spot in Tollygunge) wherefrom our journey would begin. And we, who have garnered to ourselves the reputation of seldom being late, came out strong and early this time, to our own surprise actually. More so because we arrived (at 8am) even before our ride, a 12-seater Traveler, which arrived at 8.45 am. And we certainly were proud of it in some way or the other. While Sandip was accompanied by his wife, Mahamaya and their cute little 3 years-old son – Rik, Tirtha and Shubhabrata brought along their significant-others Monalisa and Sangeeta respectively. The interim period of wait was well-spent in introductions and tea sippings. A sweet beginning was thus relished.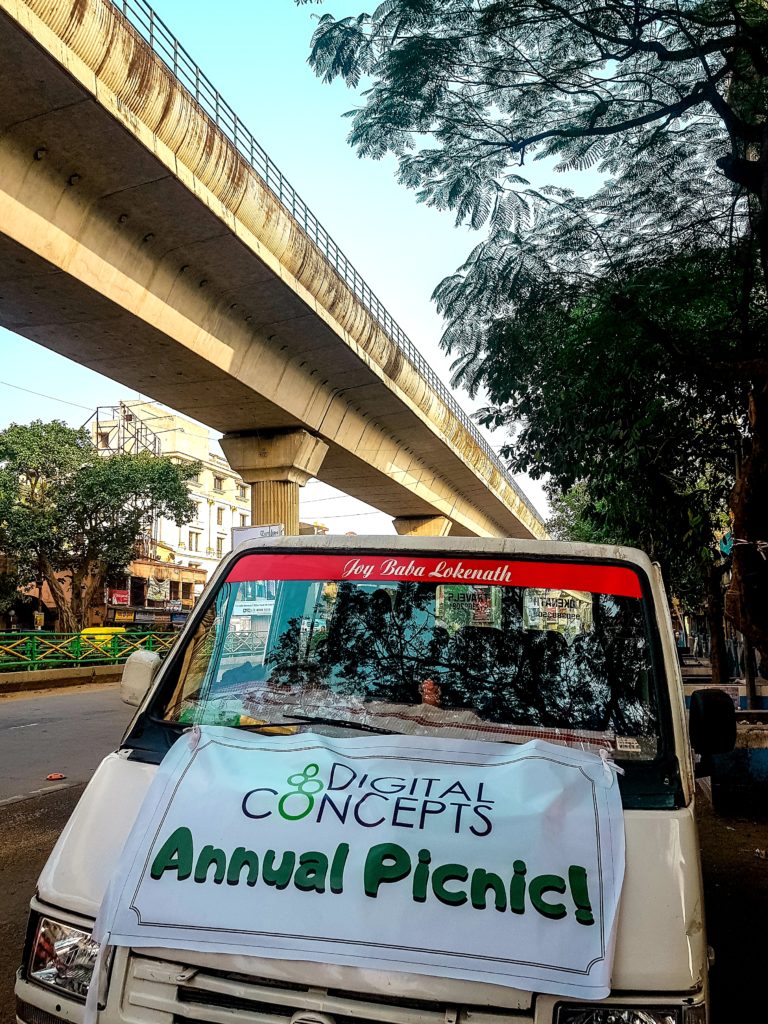 Scene 2: The Arrival
While we were lost in conversations and excitement of what's ahead, the Traveler arrived bringing, besides the driver, co-founders Mitali and Jitesh and a shiny poster carrying the name of Digital Concepts on the hood. This was the moment when all of us regained the enthusiasm that almost seemed to be getting lost in waiting. We hopped on and began our journey at 9 am. A few teaspoons of songs along a pinch of debate as to who would play the next song, handfuls of laughter and voila!! Our journey was "prepared". And in almost no time, we reached our destination, although the time was indeed 11 am. It was time to bring the rain.
Scene 3: Fun To Begin With
Where we settled upon, in Raichak, was a villa that had a garden in front of it. It took some time to get a hang of the place, like kids who were taken to a new park to play in. Once done with it, hungry as we were, breakfast was served, which consisted of "motorsuti'r kochuri", "alu'r dum" and "Nolen Gur'er Sandesh". The breakfast itself served as the opening of our one-day Picnic Festival.
Scene 4: A Happy Gesture
Breakfast was followed by a round of refreshing dumb charades consisting of God-forbidden names of movies from the Early Ages of mankind itself along with Veg and Chicken Pakoras and Tea. However, that was the intention, as it always is with the game. While we were busy miming movies, Sandeep's son Rik was busy assessing aeronautics; courtesy of an airplane made out of foam that he had brought along with him although he knew he was restricted under his mother's "airspace".
Scene 5: The Child in Us
After getting over with dumb charades, we decided to let go of the child inside us as well. And thus, cricket and badminton were taken care of in a perfect manner by us all. Bikas and Sagar were totally engrossed in cricket. While the others, Mitali, Sangeeta, Mahamaya, Jitesh, Kaushik and Shubhabrata got busy showing their badminton skills. Sandeep, this time like a responsible father, was helping his son Rik "fly".
Scene 6: The Hungry Tide
Next up was an all-of-a-sudden-planned ride to the nearby ferry port and a trip on the waves of the Ganges. Only after we got on the ride did realize that had we not gone for it, it surely would have been a huge miss. Shubhabrata, who was carrying his DSLR, was utilized to the fullest extent, and it was very much apparent that he was enjoying it too. And the clicks went on and on. Actually, what all of us realized was that the ride was certainly romantic, even for a team of digital marketers, (stressed as much as possible)!!! So one can really imagine how mesmerized we were, to the extent of being almost quiet for the whole Ganges experience. Except when we were not.
Scene 6: La La Land
Upon returning from the ferry ride, what took place was the game of Musical Chairs. And as expected, it was a lot of fun. While some players were taking their own sweet time making sure that they were close to a chair when the music stops, others were hurrying to capture the chair in front of them when they realized that the chair they crossed just then was no longer an option. The game was a fun-filled success and saw Shubhabrata emerge victorious.
Scene 7: To Eat, Perchance To Rest
Now that we had got over with Musical Chairs, we realized that a bit of rest was needed to revitalize ourselves for what was about to come i.e. the "Hunger Games". It was, thus, lunch time. Period. Customized both for veggies and non-veggies, it was delicious and filling, to say the least. For those who are keen, our food items included fish fries, veg cutlets, rice, peas pulao, cauliflower curry, matar paneer, chicken, sweets, papad and chutni. If you are thinking about salad, yes it was there too, in the beginning. It was all-in-all a wholesome lunch. And frankly speaking, eating together in itself adds to the taste of food, doesn't it?
Scene 8: All's Well That Ends Well
What followed the lunch was relaxation; for half an hour around. This was followed by "hari-bhanga", which basically involves hitting an empty pot with a stick placed on the ground, a few yards away from you with your eyes covered. While some walked beyond it, others walked away from it. And eventually, the bar was set for the one who would make it closest to the pot. This time, it was Sangeeta, who won. This was followed by a true-to-form prize distribution and clicking of pictures. Shubharata took the first for Musical chair and Sangeeta took it for "hari-bhanga". In both the cases, Monalisa, grabbed the second spot.
The Epilogue
And thus, being lost in the picnic frenzy, did the evening fall upon us. It was time to, finally, bring the annual picnic of Digital Concepts to an end. We hopped on, a little slower than compared to the day, and took our seats. As it was while we were returning, the same "which song was to be played" debate resumed. And we are proud to say that not a single song was allowed to come to an end. However, as they say there is grace in failings too. With a day full of fun-filled frolic, we got down at Tollygunge, same specified spot mentioned in Scene 1, from where we parted our ways. To end it all, we can indeed proudly say that just like our projects, the annual picnic of Digital Concepts too was a huge success.